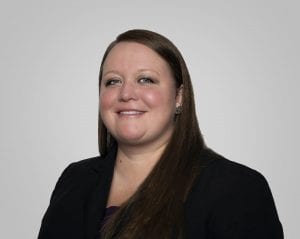 How long have you been a FCCMA member and why did you join? 
I have been a member of FCCMA since 2017. I joined because I wanted to learn more from others and grow my network.
Are you an ICMA member, why did you join, and how long have you been a member?
I have been a member of ICMA since 2016, and I joined so that I could learn from others.
Please describe your areas of formal/advanced education.
I have a Bachelor's in Communication from Eckerd College in St. Petersburg, Florida and a Master's in Public Administration from Florida International University in Miami, Florida.
Why did you select a career in public service?
I chose public service because I wanted to have a meaningful career that had a positive impact on people's lives. I chose local government specifically because of the hands on, direct influence we can have on meeting the needs of a community.
Have you always been in the public sector or have you had experience in the private sector?
I worked in higher education and the nonprofit sector before I moved into the public sector. I have been working in municipal government administration since 2012.
Please tell us about your current position and give a brief job description if you are not a City Administrator/Manager.
On April 6, 2020, I started as Assistant City Manager with the City of Boynton Beach. Before that, I was Assistant to the City Manager in the City of Sunny Isles Beach for seven years.
Please describe your typical day.
A typical day involves many meetings, coordinating and facilitating projects and dealing with day-to-day issues that come up with residents and staff. In a single day I can go from inspecting a construction site to calling a state legislator to writing a grant application to meeting with a resident to interviewing a potential new hire. I also spend time each day getting caught up on news so that I am aware of what is impacting the community and what might be coming down the pike so we can prepare. I also try to spend time on a weekly basis thinking strategically through projects and issues.
What is your favorite part of the job?
There are many things I love about this job. I love that each day is different. I also love seeing projects go from an idea to completion. When I first started working for the City of Sunny Isles Beach, we were in the design phase for building the city's premier park, Gateway Park. I managed a grant for the development of a performing arts stage in the park and I participated in construction oversight. When construction was completed, I was able to attend several performances at the park. Seeing the years of hard work put in by the team to build the project, with the end result being a beautiful amenity to be enjoyed by the community, was incredibly gratifying.
If you are involved in any volunteer or leadership activities in your community, please share with us a bit about what you do and why it is important to you.
I was treasurer on the Executive Board of the Miami-Dade City Manager's Association for 2019/20 and I serve on two FCCMA committees – Fiscal & Administrative Policy and Awards & Scholarships. I love giving back to the profession and learning from other public administrators across the state. Government gets such a bad rap, it is somewhat of a personal mission of mine to showcase all of the incredible services that local government provides, as well as all the public servants who work tirelessly behind the scenes to make these things happen.
What is your most memorable experience on the job?
I got to start an internship program in my previous position with Sunny Isles Beach and I really enjoyed seeing interns learn and grow in the organization. It was especially meaningful to me when, if a position was available, we were able to hire on an intern permanently when their internship was finished.
What are your hobbies/interests?
Spending time with family, traveling, reading and learning new things. I am a lifelong learner.
If you could give one piece of advice to people interested in a career in public service, what would it be?
Intern! Find an organization that interests you and if they don't have a formal internship program, volunteer to intern for free. The learning experience and networking is priceless. Anything you can do to elevate yourself above the crowd will pay off. Intern, get certifications, go to conferences and trainings, read professional trade publications, network and look for mentors. It takes time and discipline to do these things consistently, but you will see the return in the long run.
Who were your mentors and how have you passed this information down to other aspiring public administrators?
Chris Russo, City Manager of Sunny Isles Beach and Yocelyn (Yocie) Galiano, Village Manager of Pinecrest. Chris hired me as an administrative assistant and started giving me projects and letting me manage bigger programs out of the City Manager's Office. I have learned so much from him about how to be successful in this field and how to lead with compassion. I interned for Yocie while I was working on my Master's Degree and she has been an incredible mentor since then. Yocie is extremely resourceful and intelligent and I try to soak up everything I can from her. As I just started in Boynton Beach, I am incredibly excited to work for and learn from City Manager Lori LaVerriere.  She is well respected in the field as a dynamic, forward-thinking leader.
What career would you pick if you were to pick another?
This is it. I'm already livin' the dream. But seriously.
Do you have a story you can share about how being a member of FCCMA has helped you or impacted you in a positive way?
Being part of FCCMA is a great resource and has provided an invaluable opportunity to network and learn best practices from other cities. The staff is knowledgeable and helpful and they provide relevant information and news that help me to be better at my job.