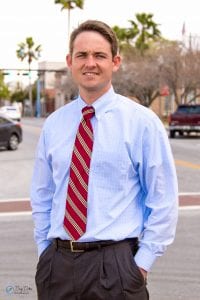 How long have you been a FCCMA member and why did you join?
I have been a FCCMA member for nine years. At the time of joining, I worked as a Parks and Recreation Manager with the City of Lake Alfred and was pursuing a M.P.A. at USF. I had a strong desire to advance in local government management and saw the many benefits of FCCMA as both a student and professional.
Are you an ICMA member, why did you join, and how long have you been a member?
I have been an ICMA member since 2013. I joined as a result of being a member of the ICMA Student Chapter at the University of South Florida. Students receive free membership in ICMA as a part of being a member and I have been able to maintain membership since completing my education.
Please describe your areas of formal/advanced education.
I received a B.S. in Finance and Real Estate from Florida State University in 2007, Go Noles, and later obtained a M.P.A from the University of South Florida in 2013, Go Bulls.
Why did you select a career in public service?
My interest in public service was cultivated over several years before I actually started my career. My first opportunity in public service was at the age of 16 with the City of Auburndale. It was a summer position in the Parks and Recreation Department mowing various parks throughout town. I continued to work in several roles for the city throughout high school and even into college. It was not until after college and through an internship with the City of Auburndale in the Manager's Office that I felt my career path was leading me into the public service. The immediate impact you are able to have on a community is something that drew me to the profession as well as the diversity of the workload.
Have you always been in the public sector or have you had experience in the private sector?
I have had a few experiences in the private sector. I actually sold beds during college. It was a surprisingly great college job and really more to get by during that time. I also briefly worked in the banking industry after college utilizing my Finance Degree. I enjoyed my time in banking, but felt I had more of an immediate impact working with the city. An opportunity to return to local government as a Parks and Recreation Manager with the City of Lake Alfred presented itself and I haven't looked back.
Please tell us about your current position and give a brief job description if you are not a City Administrator/Manager.
I currently serve as the Assistant City Manager for the City of Auburndale. My primary duties include oversight of the City's Personnel as well as the Community Redevelopment Agency.
Please describe your typical day.
There really isn't a typical day. Some duties are more routine than others, but there is always a new project to work on or issue to work through. The varying tasks and responsibilities are something I look forward to everyday and what I enjoy most in local government management.
What is your favorite part of the job? What is your least favorite part of the job?
Oversight of the HR responsibilities for the City offers some of the most rewarding opportunities to work with and assist employees through various issues. It can also be the most challenging aspect of the position and where I have had some of my tougher experiences.
What are your hobbies/interests?
I try to start most days with a workout, whether that is a run or going to the gym. My wife, Brittany, and I enjoy doing pretty much anything outdoors in our down time. We do quite a bit of hiking and trail running on the weekends with our two dogs, Sammie and Derwin. My wife is more of the runner, but I'll jump out there and do a race with her from time to time. I also enjoy just getting out in the yard and working. If we aren't out on some adventure, you'll probably find me doing a yard/house project.
If you could give one piece of advice to people interested in a career in public service, what would it be?
I think reach
ing out and finding a mentor early in your career is so important. Many times they will reach out to you, but regardless some of the greatest relationships I have are with people I look up to as mentors. 
Who were your mentors and how have you passed this information down to other aspiring public administrators?
I feel very fortunate to call a number of manager's my mentors. Through my years with the City of Auburndale, Bobby Green has most certainly been an incredible mentor to me. I've also had the opportunity to learn from all of his former assistant's as well, either working for them or serving with them on various committees. I know the impact my mentors and others have had on me both professionally and personally. I currently serve as the Chapter Mentor for the ICMA Student Chapter at USF and served as the Student Council Sub-Committee Chair for the past several years. I really enjoy being able to engage the students through these groups. As I also grow in the profession, I look forward to the opportunity to engage more people interested in city management.
What career would you pick if you were to pick another?
I really don't see myself doing anything else, so it would have to be something I enjoy doing. I'd likely start a business that involved doing something outdoors or with my hands. I could also see myself falling back on my Finance degree.
I've really had so many wonderful experiences with FCCMA. One that sticks out is the support I received from a group of USF M.P.A. alumni that helped in the formation of the ICMA Student Chapter at USF. In 2013, I was in the process of finishing the M.P.A program at USF and was approached by a group of manager's through FCCMA to start an ICMA Student Chapter. I found FCCMA and the manager's to be very supportive of the initiative and really pulled together all the resources and individuals needed to get it started. The Student Chapter was the first in the State, so there weren't any examples to necessarily follow. There definitely were some obstacles through the process, but we all made it happen. I love seeing how the Student Chapters have grown throughout the State and that couldn't have been done without the help of other managers and FCCMA.