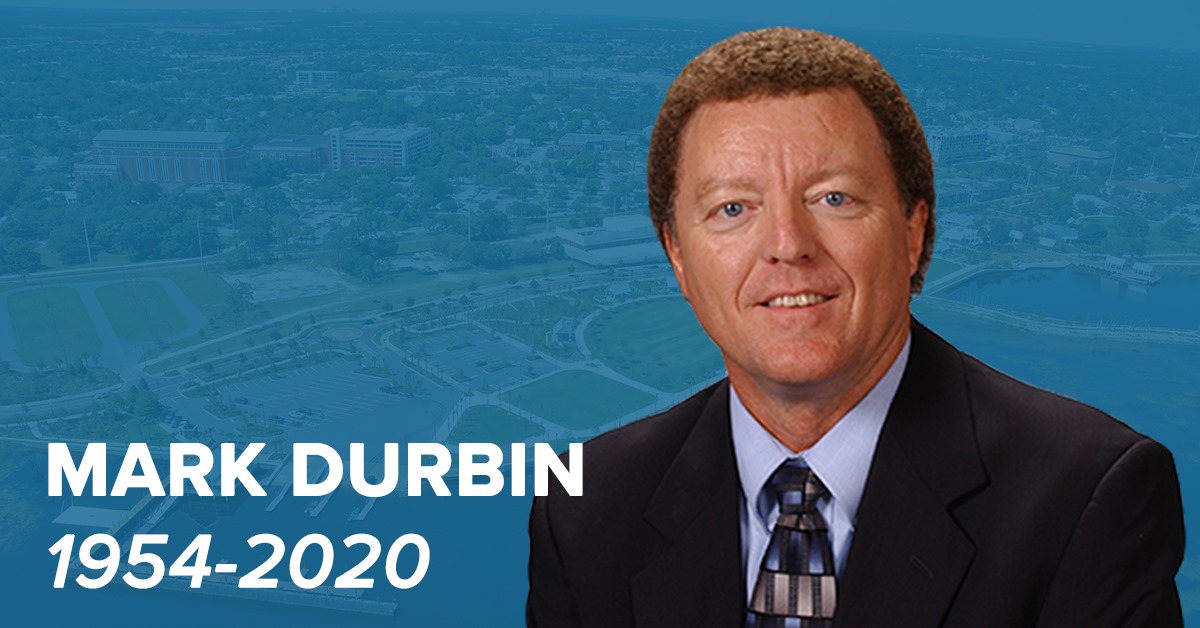 Visitation and Service Information
Visitation: Friday, October 2, 4:00 p.m. until 8:00 p.m. at Osceola Memory Gardens, 1717 Old Boggy Creek Road, Kissimmee.
Celebration of life: Saturday, October 3, 10:00 a.m. at Kissimmee Christian Church, 415 N Main Street, Kissimmee.
"Mark's life is an excellent example of a life well lived." Said Ken Parker, friend and colleague, "As he completed his journey he heard these words 'well done good and faithful servant'." 
Mark came to Florida in 1987 to be Kissimmee's city manager after serving as City Administrator of Sedalia, Missouri from 1983 to 1987 and before that as City Administrator of Trenton, Missouri from 1981 to 1983. A graduate of the Missouri University with a MAPA, Mark stayed in Missouri and moved up with each placement from intern through analyst to assistant manager to manager.  In Kissimmee, he joined FCCMA immediately and served on committees throughout his career. He retired in 2010 to begin work with his church, and served as a Range Rider and Senior Advisor from 2011 to 2019. Mark was well known for his quick replies for help and willingness to reach out to new arrivals to Florida. He is also known for his faithful attendance at the regional manager meetings along the I-4 corridor where he could be counted on to lend emotional support for managers, managerial staff, students, and those interested in the profession – along with a hearty laugh for shared stories, quick wit, and wisdom.
Remembering Mark: Two Senior Advisors Share Stories
Ken Parker, retired city manager, Port Orange
I met Mark soon after he arrived in Florida. Immediately, I knew he was somebody whose opinion I could trust because it would be well reasoned and thought out.
Soon after meeting Mark, I advertised for an Assistant City Manager. An administrative assistant from Kissimmee was an applicant for the position in Port Orange. I spoke with him about the individual and he provided a forthright assessment of the individual. Based on his comments, I hired the individual.
Over the years, we had a variety of conversations about the profession but most often our discussion turned to faith. He was a man who was strong in his faith.
When he retired, I remember Mark saying that he was not retiring but beginning the next phase of his life. He said would have more time to serve the Lord wherever He was leading. Also, he wanted to give back to the profession he loved.
And, there were many other things he wanted to do with his family.
Mark's life is an excellent example of a life well lived. He encouraged others. He mentored others. Mark set the example for all of us to follow. He set the "gold standard" for all of us who serve as Senior Advisors. As he completed his journey he heard these words "well done good and faithful servant."
I sent an email to him earlier in the summer checking on him and his family. His reply was so typical Mark. His reply was a note of encouragement. His focus was on others, not his own condition. He was looking forward to seeing his family and being with them. In the email, He affirmed that he was secure in his future and was trusting the One who holds the future. He encouraged me in my role as a Senior Advisor.
People come into our lives, some for short periods of time and others for longer periods. I am so glad that I had the opportunity to walk just a short distance in life with a truly remarkable man.
Kurt Bressner, retired city manager, Boynton Beach
Mark had huge following of young professionals because of the care and attention he paid to each of them, especially when a member was in transition. Mark's resume reviews and coaching became the standard that other Florida Senior Advisors followed in their contact with members. It was simply the "Durbin Method" of care, compassion and respect for every person he came into contact with. There were many times I would call Mark and vent about a particularly vexing city manager placement assignment. In all cases, Mark would carefully listen to my complaint and offer a clear and helpful path to getting the search process back on track. He was among the best and most poised city managers I've known. Later as Mark's illness progressed, we would talk about faith and family. Never was there a "why me?".  Mark always kept focus on doing his best, staying on target with treatment. He remained guided by faith, love of family and buoyed by the support of friends and colleagues.  I'm honored to have known and worked with Mark.