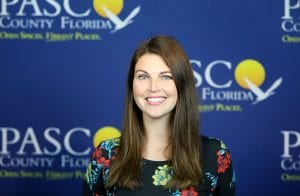 How long have you been a FCCMA member and why did you join?
I have been a member since 2015. A coworker asked me to attend the "So You Want To Be" session with her and I found it to be such an intriguing session.  It was so different from the typical accounting conference sessions I generally attend.
Are you an ICMA member, why did you join, and how long have you been a member?
Yes, as an affiliate member.
Please describe your areas of formal/advanced education.
I earned my BA and MBA, with a Concentration in Accounting, from Saint Leo University. I also just completed my Certified Public Manager (CPM) through Florida State University in August.
Why did you select a career in public service?
I like to say public service found me. While looking for a new career, a friend recommended that I apply for a position within the county 6 ½ years ago, and here I am, still loving it and learning new things every day.
Have you always been in the public sector or have you had experience in the private sector?
I worked in the private sector for 16 years before making the leap to local government.  I started working when I was only 15 years old.  I started working at Chick-fil-A, then on to Kash n' Karry (now Winn Dixie), two local CPA firms and a chiropractic office prior to joining the county. Each place taught me valuable lessons and helped shape who and where I am today.
Please tell us about your current position and give a brief job description if you are not a City Administrator/Manager.
I am the Fiscal Services Director for the Internal Services Branch in Pasco County.  I lead a team of 14.  We have an accounting team that consists of eight team members who are responsible for all the fiscal activities for our 20+ customer department/divisions, and an Enterprise Resource Planning (ERP) team that consists of six team members who are responsible for managing the financial system for both the county and Pasco County Clerk and Comptroller's office.
Please describe your typical day.
Every day at the county is a little different.  Typically, I like to check in with my team and see how things are going and if they need any assistance with anything, and then I move on to tackling the day's issues. Some days I am writing or updating policies and procedures, and other days I am out and about meeting with other departments to gain a better understanding of how things work throughout the organization.
What is your favorite part of the job?
My favorite part of the job is the people!  I have an amazing team and great coworkers, and I love building relationships and learning new things. I also love going on field trips around the county to see what other departments are doing for us and our citizens.  When you are stuck behind your desk a good part of the day, it is easy to forget that there are so many others out there doing great things and interacting directly with our citizens.
What are your hobbies/interests?
I love spending time with my family and friends.  My husband, Mark, and I have two beautiful children (daughter, Hayden- 11 and son, Dylan- 7) who keep us busy.  We spend most weeknights and weekends at the soccer fields.  When we aren't at the fields, we enjoy hosting cookouts and pool parties.
If you could give one piece of advice to people interested in a career in public service, what would it be?
Step out of your comfort zone from time to time.  This is something I have always struggled with, but I find the more I do it, the more I grow, as a leader and as an individual.
Who were your mentors and how have you passed this information down to other aspiring public administrators?
In my few short years at Pasco I have had several great mentors-  Michele Baker, Heather Grimes, Emily Colon, Erik Breitenbach and Dan Biles to name a few. I have served as a mentor the past few years for the County's Leadership Development Program (LDP) and hope to keep doing it for years to come.
What career would you pick if you were to pick another?
I have always wanted to be a detective or Behavior Analyst.  I love watching crime shows and documentaries; however, my inability to handle the sight of blood leads me to believe I wouldn't be very good at it. So, realistically I would stick with something in customer service because I love interacting with people.