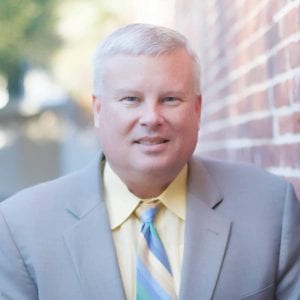 How long have you been a FCCMA member and why did you join?
I became a member of FCCMA following my appointment as the Fernandina Beach City Manager in December, 2015.
Are you an ICMA member, why did you join, and how long have you been a member?
I have been a full member of ICMA since 1996 when I began my city management career.
Please describe your areas of formal/advanced education.
I received a Bachelor's degree (1985; Political Science) from Alma College and a Master's degree (1990; Public Administration) from Oakland University. While completing my degree at Oakland University, I also received a U.S. Army commission as an infantry officer in 1989.
Why did you select a career in public service?
I enjoy the different daily challenges of local government- not very many days end the way they started or as planned. The people and the issues are both interesting and challenging (and something unexpected appears frequently).
Have you always been in the public sector or have you had experience in the private sector?
While working during my college years, I worked in retail management. Immediately after completing my Master's degree, however, I entered active military service and then transitioned into local government afterward.
Please describe your typical day.
I am an early riser, so I review my messages and schedule well before getting to City Hall. I typically have a formal meeting with at least one city commissioner and two or three department directors each day. My immediate staff keeps me focused on routine tasks: reviewing invoices, personnel actions, telephone and email exchanges. I expect my typical day is not much different than most other city managers. Fernandina Beach government offices are not centralized, so I take advantage of opportunities to get out to other locations.
What is your favorite part of the job?
Introducing people to local government, especially how it operates. With so many varying forms of local government, local government is rarely introduced to students, so most residents are unfamiliar with how everything fits together, especially at budget time.
What is your least favorite part of the job?
Contending with the proliferation of misinformation on popular social media platforms.
What is your most memorable experience on the job?
Getting hired. This is a very challenging profession and the caliber and capabilities of fellow managers is incredible. To be selected and entrusted with the future of a community is a high calling and we should always remember that trust placed in us by the elected officials and residents.
What are your hobbies/interests?
I collect and play board games. I have nearly 700 games in my collection.
If you could give one piece of advice to people interested in a career in public service, what would it be?
It is a wonderfully challenging and rewarding career. Everything you do, though, plays out in the public arena, so grow a thick skin and an even stronger sense of integrity. Develop a keen sense of political acumen- you may not be a politician, but you most assuredly operate in a political environment.
Who were your mentors and how have you passed this information down to other aspiring public administrators?
Ironically, due to the relative isolation of most of my communities, I didn't have a manager mentor. My most significant mentors during my early career were the various mayors with whom I worked. They all provided me with insight into the community and the job, letting me grow, make mistakes, learn and lead.
Do you have a story you can share about how being a member of FCCMA has helped you or impacted you in a positive way?
The FCCMA has enabled me to integrate well into Florida. I know that many other managers like me have transitioned to Florida from other states and it has been interesting to renew acquaintances from previous career locations. It has been helpful to have experienced Florida peers to reach out to as part of the transition.